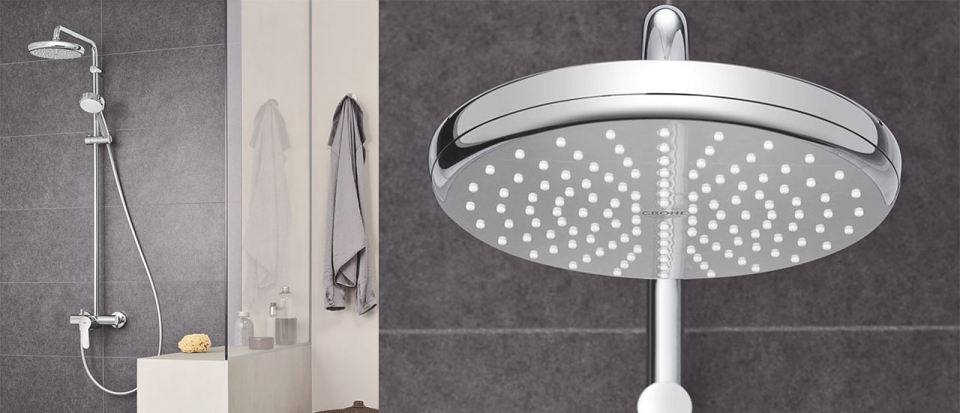 New Tempesta Cosmopolitan System
The perfect choice for modern, architectural bathrooms
With its crisp, cylindrical profile and distinctive bevelled detailing, the New Tempesta System is the perfect choice for modern, architectural bathrooms. Like all GROHE shower systems, it is easy to install and packed with great technology. The 210 mm head shower and 390 mm shower arm can be swivelled to create the perfect angle while the hand shower features two spray patterns – a rich Rain Spray and a vigorous Jet Spray.
The shower rail features an inner water guide, and the thermostat's GROHE TurboStat technology means you can take a luxurious shower secure in the knowledge the water will stay at the preselected temperature even if the water pressure changes.
Product range
GROHE Flex Shower Systems
The simple, affordable upgrade to your shower experience
Upgrading a shower has never been easier. GROHE Flex shower systems are the perfect way to revitalise your shower as they are so versatile and quick to install. Offering an attractive alternative to existing set-ups where only a hand shower or a wall-mounted shower rail is available, these entrylevel shower systems come with an additional head shower. Designed to connect easily to any existing valve via the shower hose, they effortlessly give any bathroom or shower a fresh new look and luxurious level of performance without any need for re-tiling.
Enhance your shower experience in 6 easy steps!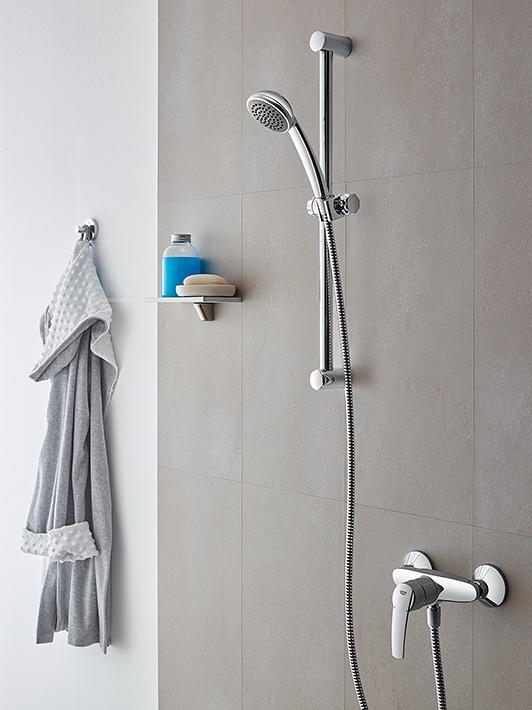 1. Dismount your existing shower set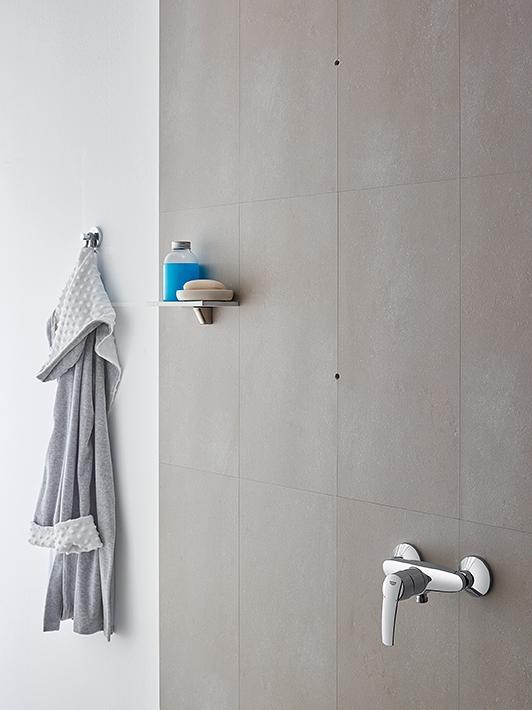 2. Check if existing drilling holes can be re-used (distance = 620mm)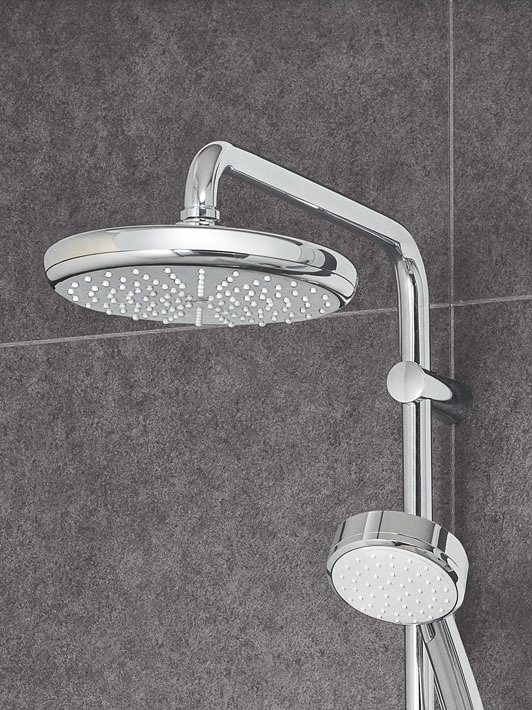 3. Assemble the GROHE Flex shower system and angle the arm correctly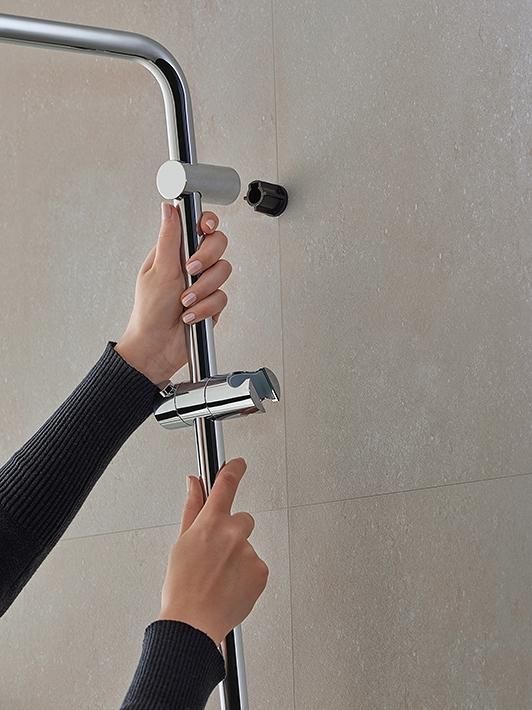 4. Mount the GROHE Flex shower system to the wall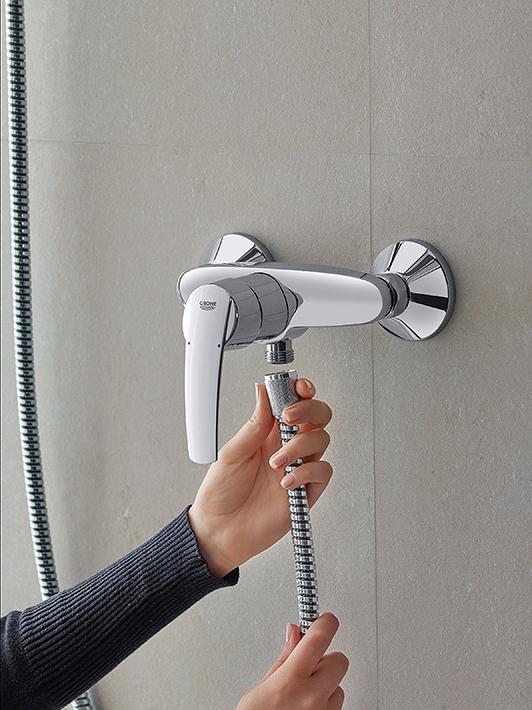 5. Connect one shower hose to the hand shower and one to your existing faucet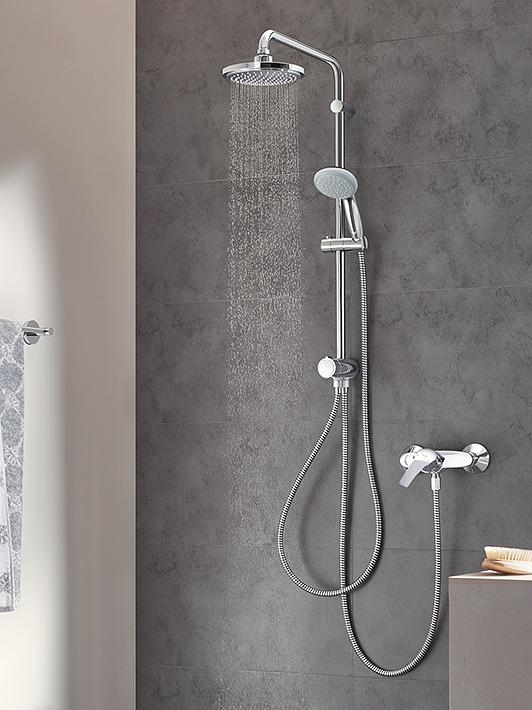 6. Enjoy your enhanced shower experience with your GROHE Flex shower system