GROHE FootControl
Liberate your hands. Tap your feet.
For kitchens where time is of the essence and convenience is a must, why not go hands-free? GROHE's new FootControl faucets can be turned on and off with a gentle tap of your foot on the base unit, leaving your hands free and your faucet spotless at all times. Three of our most popular faucets now come with this innovative FootControl technology, or you can retro-fit the feature to any GROHE pull-out kitchen faucet. To say goodbye to germs, mess and hassle, simply tap your feet!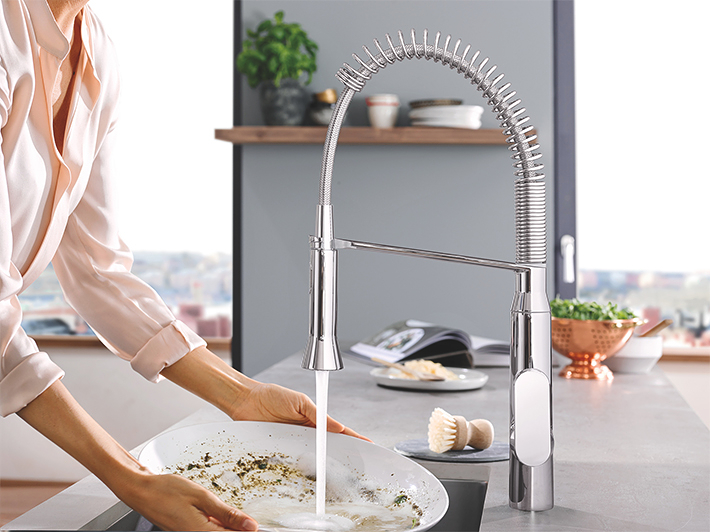 K7 FootControl
Unlock the professional potential of your kitchen with the K7 FootControl faucet. Enjoy the high-performace of the K7's professional spray feature and extractable hose combined with the convenience of foot activation technology. The faucet's crisp architectural styling makes it a design feature in itself, but the exceptional pro-level features mean its more than a match for any task. For busy kitchens where efficiency is a must the K7 FootControl faucet puts you in total control – and leaves your hands free for other tasks.
Essence FootControl
Introduce the purity of minimalism to your kitchen while enjoying the effortless functionality of hands-free operation with GROHE's Essence FootControl faucet. The sleek, simple lines of our Essence faucet are the perfect complement to a contemporary kitchen, while the one-touch FootControl lets you keep your hands free and your faucet germ-free. With a pull-out dual spray feature and the dazzling, durable GROHE StarLight® finish, the Essence FootControl is the perfect choice for a fuss-free kitchen design.